Sterling Ambassadors
2019-2020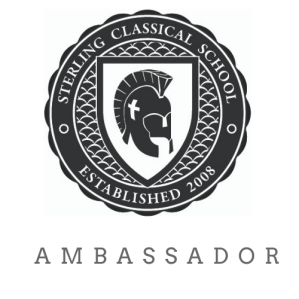 We are thankful to the following families for being part of the Sterling Ambassador program!
Jennifer Adelsman-"We are blessed to be at a school that places value on Godly principles and allows our children room to explore their personal interests with a flexible class schedule."
Jennifer and her husband, Brian, have a student in 10th grade and a student in 1st grade.
Anne Barger-"We love Sterling! The Classical curriculum, Christian environment and the genuine love of the staff for the students here make Sterling a special place we feel blessed to call our school home."
Anne and her husband, Richard, have students in PreK3 and 1st grade.
Stephanie Broglie-At Sterling, our student is not just a number! We love Sterling's small class sizes which allow the teachers to really get to know their students.
The Broglie family has a daughter in 8th grade.
Alissa Greene-"This is our first year at Sterling. We love it because we are seeing a wide variety of what it has to offer. From the hands on learning happening in Pre K to feeding our 7th grader's love of science and Latin, we are seeing what we were seeking. The teachers and staff highly value a Christian education and our children love learning in this special place! "
The Greene's have two students here, PreK and 7th grade.
Danielle Hill-"We felt called to Sterling because of their Christ-centered education first & foremost. We also appreciate the small classroom sizes, Charlotte Mason hands on learning, and the University model which allows us to spend more time together as a family."
Danielle and her husband, Grant, have two children at Sterling in 6th and 3rd grades. Their family business is Capri Pools.
Ashleigh Leege-"We love so many things about this school but for us the Christian world and the smaller more flexible environment is allowing both of our kids to thrive!"
Asheligh and her husband, Shawn, have students in 6th grade and 1st grade.
Lisa Murray-"We are brand new to Sterling and already love it! Everyone we have met has been helpful and friendly. I especially value how regularly the teachers and staff communicate with us parents. The teachers provide such interesting and engaging lessons that my 5th grade daughter doesn't want the school day to end!"
Lisa and her husband, Paul, have a daughter in 5th grade.